Kid's Klub
People's Youth participating in Bayport's Memorial Day Parade with guitars and drums.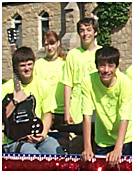 This event for children in grades 1 – 6 meets after worship the second Sunday of each month for bible devotions, games, and a special outing. Activities have included bowling, snow tubing, local waterparks and other
Ticketswichita.net has Tickets in Wichita, KS for Eric Church, Dwight Yoakam & Halestorm, Under The Streetlamp, Jim Brickman, Mannheim Steamroller,at Tickets Wichita in INTRUST Bank Arena, Orpheum Theatre.
Annual Pilgrim Fellowship Ministry Fundraisers
Box City: A Night for Dane's Place – we raise funds for our local shelter house while also raising awareness about homelessness.
Easter Breakfast and Egg Hunt.
Hot Air Affair – Saturday February 7th – 8:00am-8:00pm – selling concessions at hot air balloon event in Hudson, WI.
Spaghetti Dinner and Dessert Auction – Sunday, March 8 – 5:00pm – who's dessert will reign supreme?
Super Sub Sandwiches – for our congregation's annual meeting in January.
Annual Events for Pilgrim Fellowship Ministry
Ski Weekend – Iowa and Minnesota churches combine for a week-end of skiing and fellowship.
NAPF/HOPE – a yearly conference for youth ages 15-27.
Live Nativity – youth portray Mary, Joseph, shepherds and Angel with a live donkey, sheep and camel on the front lawn of the church.
Moonlight Madness – the end of the school year all night activity.
Youth Sunday – the youth participate in all aspects of our worship service.
Summer Stretch – meeting once a week for 5 weeks during the summer to do mission and service projects in the morning and fun activities in the afternoon.
Youth Group Activities & Youth Pilgrim Fellowship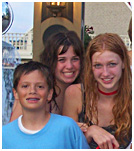 PILGRIM FELLOWSHIP YOUTH MINISTRY Youth in grades 7 – 12 meet for devotions, discussions, fellowship, and fun. Watch for new dates and times.
---
Hamilton experience in musical theater was get their hands announced this Summer 2017
the sweet young girl Norah Jones in new tour in spring 2017 at Hawaii Theatre